Pineapple Carpaccio is one of the easiest desserts to prepare that exist. And also one of the best! Not only is it a fresh and light dish that is perfect for a low-calorie diet , but it is also very attractive to the eye, so it can get you out of trouble if you have unexpected visitors.
Ingredients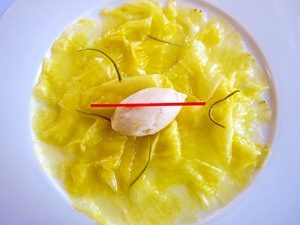 A whole pineapple or pineapple for 4 people.
Proposal presentation 1:
If the pineapple is sweet and firm, we can serve it well cut with a pinch of fresh mint, although we can also use mint.

Vanilla ice cream in the center, to give a restaurant touch ;).
Proposal presentation 2:
sugar or honey

Brown sugar is usually used for this recipe, but we leave that to your liking.

It can be avoided if you want to save calories or substitute cinnamon.

A handful of finely chopped almonds, hazelnuts or other dry fruit.

For the most daring of sweet/acid contrasts, a thin drizzle of balsamic cream or vinegar of Modena.
How to make Pineapple Carpaccio
The pineapple must be cold when preparing the recipe, so it is necessary to store it in the fridge until it reaches an optimal temperature.

In the meantime, chop the almonds and mint.

We extract the rind from the pineapple with the help of a sharp knife and clean it well.

You have to be careful and support the fruit on a firm surface so as not to cut yourself.

Once clean, you have to slice the pineapple into slices more than thin, almost transparent.

For this, it is best to have a quality mandolin, although otherwise we will have no choice but to arm ourselves with patience.

It is advisable not to remove the center of the pineapple so that the slices are more consistent, otherwise they will fall apart very easily.

Place the slices on a plate or tray, taking care not to break them, and add the almonds, mint and sugar, as well as a trickle of honey on each slice.

Our Pineapple Carpaccio is ready.
In addition to everything explained, also comment that the pineapple can be served flambéed, in which case it is necessary to put two tablespoons of butter in a very hot pan and once melted add a tablespoon of sugar. Next, we add the fruit slices, pour in the rum and carefully bring a match or lighter closer to flambé it. Once the flame goes out, add the juice of an orange and cook for a couple of minutes.
If necessary, we can use canned pineapple instead of its fresh equivalent. But the final flavor, as well as the texture of this dish, will suffer greatly, so it should be our last option.
Pineapple Carpaccio can include other fruits to add a little more color and variety to this dish. You can try thin slices of orange, mango or kiwi, which will also provide new flavors and textures. It is also common to use a few drops of fruit liqueur such as Kirsch to give the recipe the final touch.
My Website My Blog This Blog Click here Check This
Resumen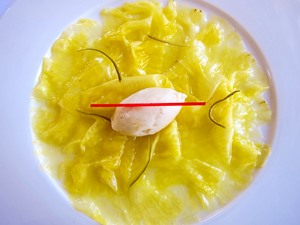 Receta
Autor
Escrito en
Tiempo de preparación
Tiempo de cocinado
Tiempo total
Puntuación media





Based on 5 Review(s)
---